Methods and concepts for Value Based Management (VBM)

Value Based Management

Definition 1: Value Based Management is the management approach that ensures corporations are run consistently on value (normally: maximizing shareholder value).

It is useful to understand that Value Based Management includes all three of the following:

Creating Value (ways to actually increase or generate maximum future value $ strategy).
Managing for Value (governance, change management, organizational culture, communication, leadership), and
Measuring Value (valuation).

Definition 2: Value Based Management aims to provide consistency of:

the corporate mission (business philosophy),
the corporate strategy (courses of action to achieve corporate mission and purpose),
corporate governance (who determines the corporate mission and regulates the activities of the corporation),
the corporate culture,
corporate communication,
organization of the corporation,
decision processes and systems,
performance management processes and systems, and
reward processes and systems,

with the corporate purpose and values a corporation wants to achieve (normally: maximizing shareholder value).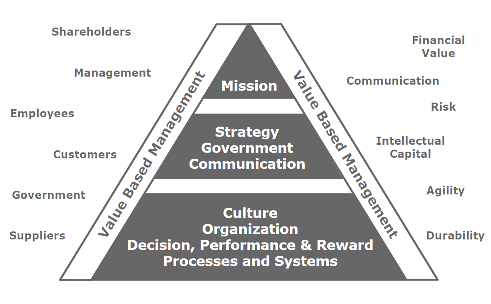 Notes:

Value Based Management is dependent on the corporate purpose and the corporate values.
The corporate purpose can either be economic (Shareholder Value) or can also aim at other constituents directly (Stakeholder Value).