Methods and concepts for Value Based Management (VBM)

Porter

The Five Forces model of Porter is an outside-in business unit strategy tool that is used to make an analysis of the attractiveness (value...) of an industry structure. The Competitive Forces analysis is made by the identification of 5 fundamental competitive forces:

the entry of competitors (how easy or difficult is it for new entrants to start to compete, which barriers do exist)
the threat of substitutes (how easy can our product or service be substituted, especially cheaper)
the bargaining power of buyers (how strong is the position of buyers, can they work together to order large volumes)
the bargaining power of suppliers (how strong is the position of sellers, are there many or only few potential suppliers, is there a monopoly)
the rivalry among the existing players (is there a strong competition between the existing players, is one player very dominant or all all equal in strength/size)
as a sixth factor could be added: government.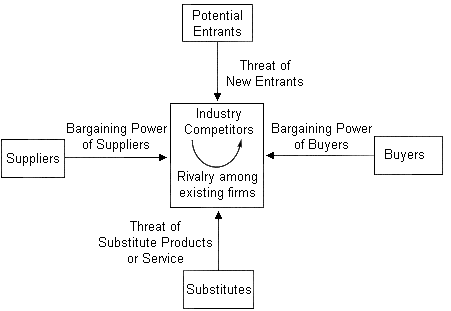 Porter's competitive forces model is probably one of the most often used business strategy tools and has proven its usefulness on numerous occasions. Porter's model is particularly strong in thinking outside-in. Care should therefore be taken not to underestimate or underemphasize the importance of the (existing) strengths of the organization (inside-out) when applying this five competitive forces framework of Porter.

From a Value Based Management point of view, the Five Forces model (Market/Industry Attractiveness) of Porter can be seen as one of two dimensions in maximizing corporate value creation. The other value creation dimension is how well a company performs relatively towards its competitors (Relative Competitive Position), for which two other Porter-models are frequently used: the Value Chain framework and Porter's Competitive Advantage.